Summer is almost here! We have been looking at easy-to-wear summer styles! This week, we have new lace tops in three different colors! While preparing for our photo shoot, we headed over to Pinterest to check out all the ways you can style lace tops! We came up with quite a few!
One way you can style a lace top is to throw it on with some shorts to dress it down. This is one of the ways we will be styling the white lace top that will be up for grabs soon! We think a white lace top paired with shorts makes for an amazing effortless outfit!
My first thought when I saw the white lace top that is part of our new arrivals, I thought it would look great with some dark jeans. Dark colored jeans are one way I like to "dress up" a shirt. Just browsing through pinterest, I saw lots of pretty outfits with a lace top and boyfriend jeans cuffed. Lace tops and denim are amazing paired together.
One way you can make your outfit edgy would to pair your lace top with some black jeans! Black jeans are my go-to when I am trying to make my outfit more edgy! Black jeans would look great with any of the three colors we recieved in our lace tops: White, Blush and Teal! My favorite pick would be the blush lace top paired with black jeans! So effortless and so edgy!
So now that we have spilled on the three colors in our lace tops, I will tell you what I would pair with each of the colors. I love the teal color paired with white skinnies or white distressed denim. I love the blush lace top paired with black denim: edgy and feminine at the same time! I would pair the white lace top with colored shorts (I personally own quite a few pair). I could also see the white lace top paired with cuffed denim shorts.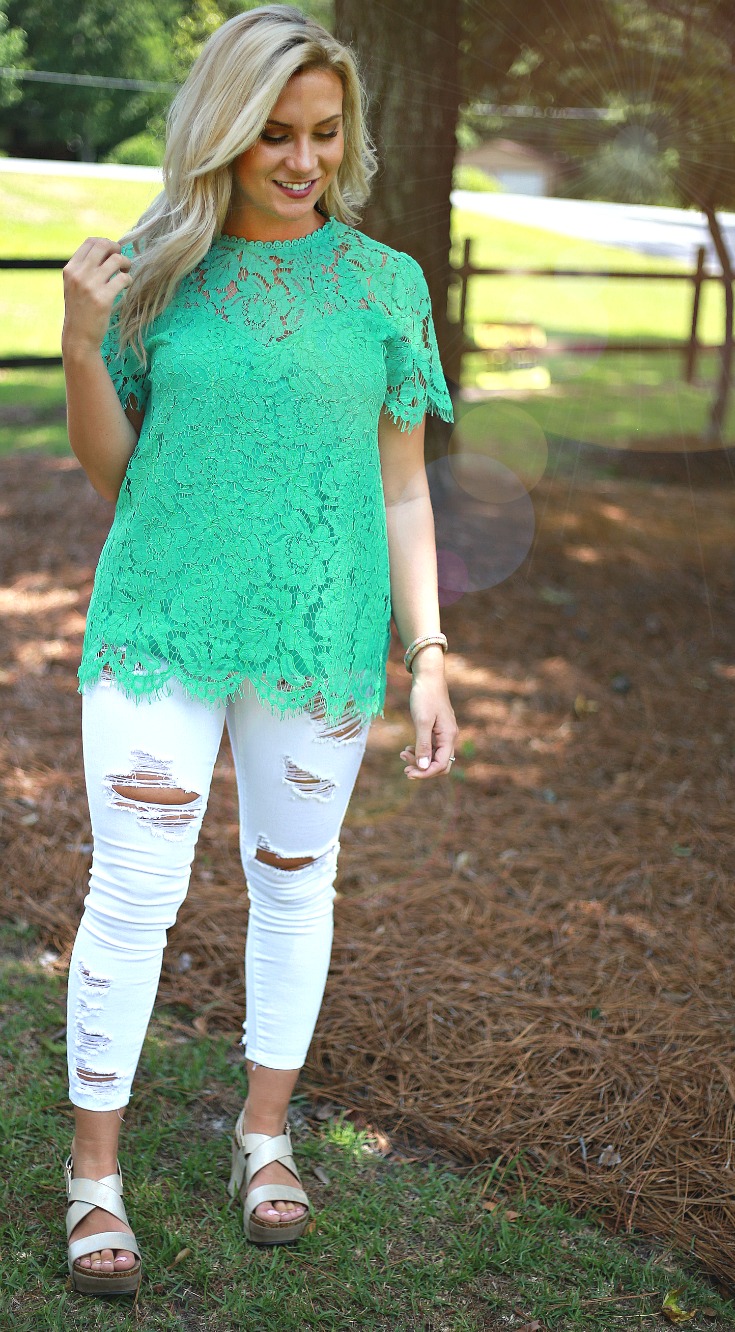 I can't wait to shoot our new lace tops! They are so pretty and timeless. I have had a white lace top in my closet for a while now and I love wearing it. I had been on the hunt to bring a good lace top into the boutique! Let us know what you think when they go live next week on the website at shopofftheracks.com/new